Download Your Free Chapter
Thanks for choosing to pick up the first chapter of the Magicians Way  – I hope you enjoy it and that you choose to read the rest of the book. 
Mark Vale is besieged by financial and marital turmoil when he meets a group of contemporary alchemists. They take him on an astonishing journey and teach him to transform difficult situations into golden opportunities.
Mark learns from wonderfully unlikely characters, from a billionaire to a beautiful topless waitress, and manifests an enormous financial windfall. But can his material success hold his family together? Mark embarks on the ultimate quest to understand how our values influence events.
Author William Whitecloud brings a dazzling range of knowledge and experience — from a childhood in Swaziland immersed in supernatural worldviews to hermetic philosophy and esoteric speculation on the financial markets — to bear on this practical and magical look at what we really want, and how to get it.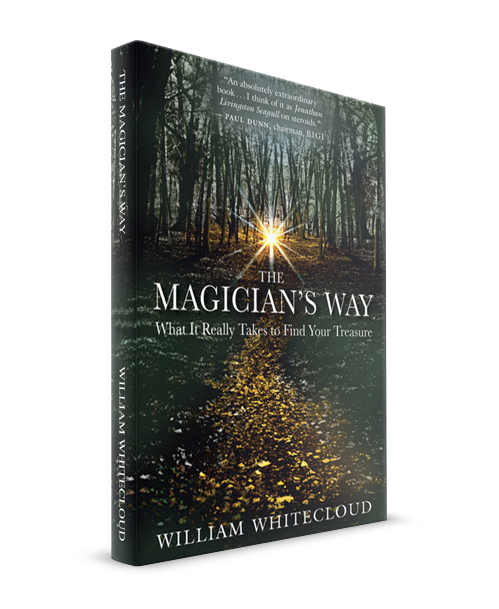 Paul Dunn, chairman, B1G1
"An absolutely extraordinary book…I think of it as Jonathan Livingston Seagull on steroids."

Dr. Joe Vitale, author of The Attractor Factor
"I love this book! The riveting tale will open your heart while engaging your mind. It contains real magic!"

Michael Murray, documentary film producer
"I would rather chew my own arm off than read most self-help books. Thankfully, The Magician's Way is not really a self-help book. It is a ripping good yarn full of usable wisdom and insightful anecdotes. I plan to read it again…and again."

Randy Spelling, life coach and host of Healing Journey
"A wonderful blueprint on how to manifest what's in your heart."

John Hall – What a wonderful read
What is it about the synchronicity of life? This book has come along just as I am reading "The Art of Soaring" by Dolomhov and Gurangove which, strangely enough, about "Magic" – life magic. The Magician's Way is one of the most uplifting books that I have ever read – riveting, entertaining, say to read yet meaningful. It seems like It was written just for me, just at the right time!